Apple Hill Spring Garden Quiche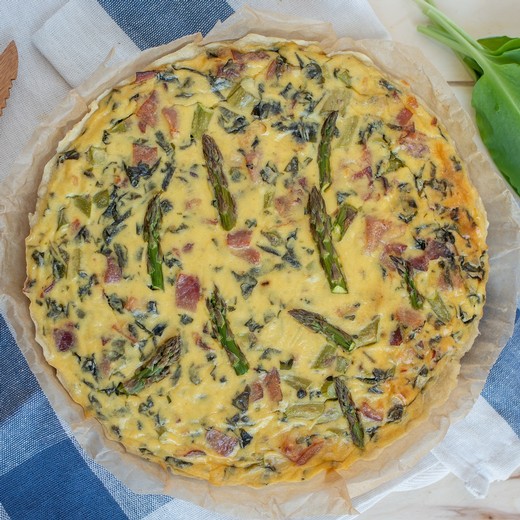 Recipe Date:
March 13, 2022
Measurements:
Imperial (US)
One thing we love about quiche is its versatility. If you keep the proportions similar you can easily substitute other cheeses, meats, vegetables and herbs as you see fit and based on what's in season. For those few weeks of the year when chive blossoms are blooming in the garden, make sure to pick a small handful and include them in a quiche like this one.
Ingredients
Sea salt to taste
Freshly ground black pepper
6 ozs fresh asparagus
3 1/2 ozs fresh shelled peas or frozen and thawed peas
2 ozs fresh spinach
2 spring onions or one medium leek
1 green garlic bulb
3 to 4 slices thick cut bacon or 3 - 4 ounces smoked ham
4 large free-range eggs
3 ounces cream
5 ounces whole milk
2 tbsps fresh chives
3 ozs fresh chevre goat cheese
1 tbsp fresh parsley or 1 tsp other fresh herbs
11 ozs all-purpose flour
5 ozs unsalted butter
1 tbsp apple cider vinegar
Ice cold water
Directions
Make the Dough
Sift the flour and 1/3 teaspoon salt into a bowl, then rub in the butter with your fingertips or cut in with a pastry cutter until it resembles fine breadcrumbs. Add cold apple cider vinegar and cut in. Add one tablespoon of ice-cold water at a time, gently mixing in between each until the dough just comes together to form a rough dough and barely holds together when pinched.
Shape the dough by hand into a circular disk, being careful not to work it too much. Wrap dough in parchment and place in the fridge to rest for at least 30 minutes. Can be done ahead.
Make the Quiche
Preheat oven to 350˚F.
Bring a small pot of salted water to a boil.
Trim the asparagus ends and cut into 1-inch chunks. Blanch the asparagus and peas for one minute in the boiling water. Roughly chop the spinach. Drain out the water and mix the spinach in with the asparagus so it wilts from the heat of the blanched veggies. Set aside.
Chop the bacon or ham and add to a frying pan on medium heat, cooking for 5 minutes or so until beginning to turn golden.
Dice the spring onions or leek, the green garlic, and the chives. Add onion and garlic to the bacon and continue to cook, stirring every minute or so, until onions and bacon begin to brown. Turn off the heat and add in the chives and set aside veggie mixture. Season with salt and pepper to taste.
Crack the eggs into a bowl and whisk with the cream, milk, and a bit of salt and pepper.
Lightly flour a large cutting board or countertop and roll out the rested dough into a circle approximately ¼ inch thick and 10 inches in diameter. Press gently into a 9-inch pie pan or tart pan. Cut away any overhanging pastry if using a tart pan. If using a pie pan, crimp a decorative edge and trim off any excess dough. Line pasty with a sheet of parchment paper and fill pan with pie weights, dried beans, or rice to weigh the dough in place. Bake for approximately 12 minutes, until the edge of the crust is beginning to brown. Remove from oven, let cool just slightly and remove the parchment and weights from the pan.
Add the veggie and meat mixture to the crust. Top with the egg and cream mixture then dot the top with dollops of goat cheese and a sprinkle of salt and pepper. Bake in the oven for about 40 minutes until center is just set and egg is fully cooked. Cool enough to serve and pair with a glass of Myka Estates sparkling wine, Chardonnay or even Pinot Grigio. A salad of spring greens is a perfect side dish here to make it a meal!
Cooks Notes:
Gluten free? Skip the crust and make it more like a frittata without a crust, or try a hash brown or almond meal crust, whatever works for you!
Vegetarian? Mushrooms are in season in the spring make a great substitution for the bacon or ham.
Sign Up For Our Newsletter
Keep up to date on the latest Myka Estates news! We promise to keep it interesting.