Apple Pumpkin Butter Baked Brie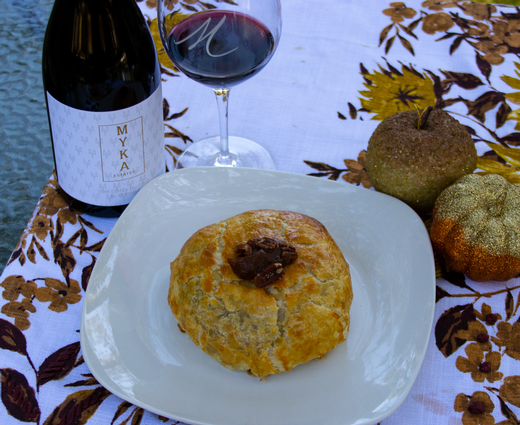 Recipe Date:
August 2, 2022
Measurements:
Imperial (US)
This festive seasonal appetizer by Chef Lisa Scott serves about six to eight people as an appetizer and pairs beautifully with our Rhône-inspired wine blends, Myka Estates Côtes du Cruz Blanc or Côtes du Cruz Rouge.
Ingredients
1 sheet puffed pastry, defrosted according to instructions on box
8 ozs wheel of Brie cheese
3 tbsps apple pumpkin butter, divided
2 tbsps candied pecans, chopped (use your favorite recipe)
1 egg
2 tbsps heavy cream
Directions
Preheat oven to 400 ˚F. Line a baking sheet with parchment paper. Mix the egg and cream together to make an egg wash, set aside. With a sharp pointed paring knife, cut a circle around the edge of the top of the brie, 1/8 -1/4 inch from the side all the way around, about ½ way down into the middle of the wheel. Slide the knife under the circle you've cut and cut across the center to scoop out the cheese, removing it like the top of a carved pumpkin. Fill the cavity with two tablespoons of apple pumpkin butter and chopped candied pecans. Place the brie that you scooped out back on top.
Place the brie, cut side down, on the thawed pastry sheet. Pastry should be a square large enough to wrap the brie tight, without too much excess dough or not enough to seal tight. Make four cuts in the pastry starting from the brie to the edge of the corner. This will help you wrap the brie tighter. Fold each side of the cut pastry over the top of the brie, arrange nicely wrap rather tightly. Pinch the edges to seal the pastry around the brie.
When done wrapping the pastry, brush generously with egg wash. Cook at 400 ˚F for about 15-20 minutes until pastry is golden in color. Remove from oven and let sit for 20 minutes before serving. Top with a dollop of pumpkin apple butter and a candied pecan. Serve with Myka Estates Côtes du Cruz Blanc or Côtes du Cruz Rouge.
Sign Up For Our Newsletter
Keep up to date on the latest Myka Estates news! We promise to keep it interesting.