Asiago Stuffed Baby Potatoes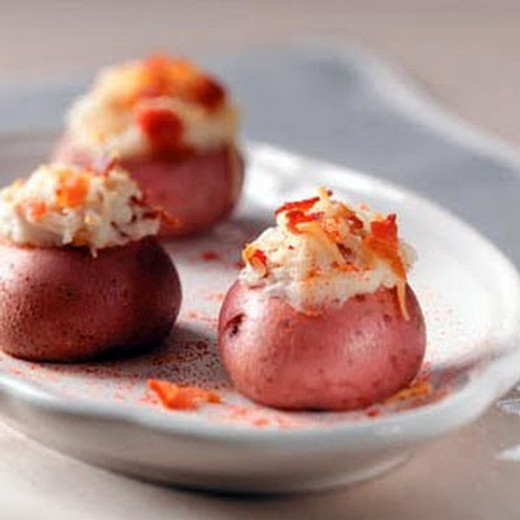 Recipe Date:
November 11, 2021
Measurements:
Imperial (US)
This is a crowd pleasing recipe. Everyone loves these hot, cheesy bites on a cold wintery day. The best part though is that it can be made into an appetizer, like this recipe suggests or as a side dish for a seated meal. Just select a larger potato size and follow the same directions. Hint, you make want to make more, they will disappear fast!
Ingredients
16 Baby potatoes (about 2" in diameter)
12 Whole garlic cloves
1/2 cup Extra virgin olive oil
10 Fresh large basil leaves
1/2 lb Asiago cheese, grated
1 cup Mayonnaise
Paprika for garnish
Directions
• Generously cover potatoes with cold water and 1 tablespoon salt in a medium pot, then simmer until tender, about 12 minutes. Drain potatoes and rinse with cold water. Cool to room temperature in refrigerator, about 40 minutes.
• Meanwhile, cook garlic in oil at a bare simmer in a small heavy saucepan, stirring occasionally, until tender and golden, about 12 minutes.
• Drain garlic, reserving oil for another use, then mash to a paste. • Preheat oven to 350°F with rack in middle.
• Mince basil, then stir together with garlic paste, cheese, mayonnaise, and salt and pepper to taste.
• Using a small melon-ball cutter or a teaspoon, scoop out a hole in each cooled potato, leaving a 1/4-inch shell.
• Stuff potatoes with cheese mixture and bake in a pan until cheese is melted and bubbling, about 20 minutes.
• Sprinkle lightly with paprika.
• Serve with a bottle of chilled 2019 Geisler Baron Chardonnay
Sign Up For Our Newsletter
Keep up to date on the latest Myka Estates news! We promise to keep it interesting.