Butternut Squash Soup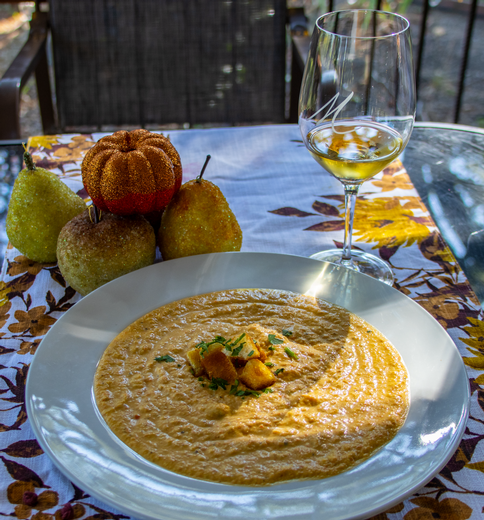 Recipe Date:
August 2, 2022
Measurements:
Imperial (US)
This flavor filled butternut squash soup serves 8 people and is the perfect meal for the fall season! This soup is quick to make with only 1 hour of active cooking and pairs deliciously with our Myka Estates Chardonnay.
Ingredients
7 lbs butternut squash
1/2 lb butter, unsalted
2 tbsps ground cinnamon
1 tsp ground nutmeg
1 tsp ground allspice
1/2 tsp ground cloves
1 yellow onion, diced
1 cup celery, diced
2 carrots, grated
2 cups chicken broth
16 ozs heavy cream
1/4 cup Myka Estates Chardonnay
1 cayenne pinch
Salt and pepper to taste
Directions
Heat oven to 350 ˚F. Cut squash in half lengthwise, remove and discard seeds. Place squash on a baking sheet, cut side up. In a small bowl, mix cinnamon, allspice, nutmeg, and cloves. Sprinkle the spice mix over the top of the squash. Melt ¼ cup of butter and drizzle over the squash, cover with foil and cook for 1 ½ to 2 hours, or until tender.
In a large soup pot, melt ¼ cup of butter. Add onions, celery, and carrots to pot. Sauté until onions are translucent. With a large spoon, scrape the squash out of its skin and add to the pot. Add chicken broth and cream, let simmer for 15 minutes. With an immersion blender (you can use a standard blender if you do not have one), blend until creamy and smooth. Add the Chardonnay, cayenne, salt, and pepper. Cook, stirring constantly, until heated thoroughly. Serve with a glass of Myka Estates Chardonnay.
Sign Up For Our Newsletter
Keep up to date on the latest Myka Estates news! We promise to keep it interesting.