Caramel Apple Cheesecake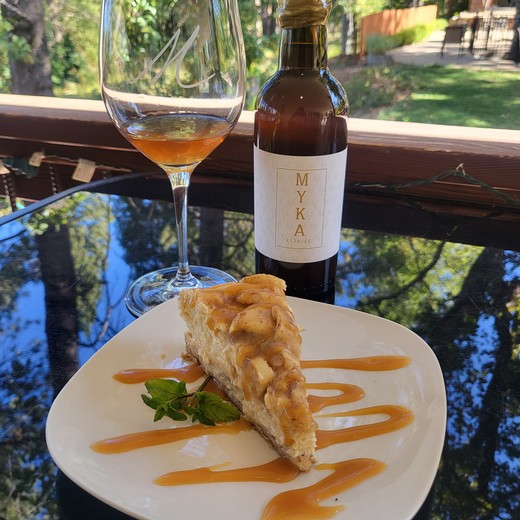 Recipe Date:
October 31, 2023
Measurements:
Imperial (US)
Everyone loves cheesecake, and they are much easier to make than people think! This cheesecake will delight your family and friends. I especially love to make it in the fall when apples are abundant. The smell while this cake is baking will make your whole house smell delicious. Enjoy with a glass of Myka Estates Sherry or Port style wine, they both pair beautifully. – Lisa Scott
Ingredients
CRUST INGREDIENTS
3 cups Graham crackers, finely crumbled
1 tsp Ground cinnamon
1 tsp Ground nutmeg
1 Stick unsalted butter (1/4 pound), melted
APPLE MIXTURE
4 Honeycrisp or Granny Smith apples, peeled, cored, and sliced
1/4 cup Unsalted butter
1 tbsp Orange juice
1 tbsp Ground cinnamon
1/2 tsp Ground Nutmeg
1/2 cup Caramel topping, divided in half
CHEESECAKE MIXTURE
4 8-oz packages cream cheese, room temperature
4 Large eggs, room temperature
1/4 cup Maple syrup
1/3 cup Sugar
1 tsp Vanilla extract
Directions
Preheat oven to 325˚F. Get out a 10-inch spring form pan.
Combine all the ingredients for the crust in a medium size mixing bowl. Press mixture into the spring form pan until it covers the bottom and the side. Bake for 10 minutes. Remove from the oven and set aside.
For the apple mixture, melt 1/4 cup butter in a large sauté pan. Add the apples, orange juice, cinnamon, and nutmeg. Cook over medium heat for five minutes or until apples start to soften. Remove the pan from the stove and stir in ½ of the caramel. Set mixture aside.
In a large mixing bowl, blend all the cheesecake ingredients, except for the eggs, until smooth. Add the eggs one at a time and mix well. Set mixture aside.
To build the cheesecake, layer half of the apple mix on the prepared crust. Pour the cheesecake mix over the apples. Top with the rest of the apples. Fill an oven proof bowl with water and place it in the oven. This will help keep the cake moist. Put cake in oven and cook for 55 minutes, or until the cake is set. All ovens cook a bit differently, so make sure the center is firm to the touch. Remove cake from the oven and pour the remaining caramel over the top while the cake is still warm.
Let the cheesecake cool at room temperature, then refrigerate for at least four hours before serving. Serve with small glasses or Sherry or Port style dessert wine.
Cooks note: if you have time to make your own caramel, it is delicious and easy to make. It is also a fun science project for the kids, but make sure they are supervised. This is the recipe I use https://sallysbakingaddiction.com/homemade-salted-caramel-recipe/
Sign Up For Our Newsletter
Keep up to date on the latest Myka Estates news! We promise to keep it interesting.