Cauliflower Au Gratin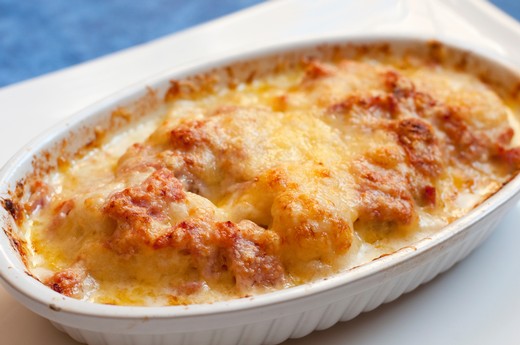 Recipe Date:
November 3, 2023
Measurements:
Imperial (US)
This cauliflower side dish is perfect alongside roasted beef, pork, or turkey, and turns out great using almost any cheese in your fridge!
Ingredients
1 Head cauliflower, cut into bite sized florets
2 tbsps Unsalted butter
1 Yellow onion, diced
2 tbsps Flour
1 cup Heavy cream
6 ozs Sharp cheddar cheese, grated
2 ozs Cream cheese
1/8 tsp Ground nutmeg
1/8 tsp Ground mustard
Pinch Cayenne
Salt and pepper to taste
Directions
Preheat oven to 350 ˚F.
Place a steamer insert in a medium size pot. Fill pot with water to just below the bottom of the steamer. Bring water to a boil. Add cauliflower, cover, and steam until tender, about 5 minutes.
Heat the butter in a saucepan over low heat. Add onion to the saucepan and cook until translucent. Add the flour, stirring constantly, until mixture just starts to brown. Gradually pour the cream into the mixture, whisking into a smooth sauce. Cook until just simmering.
Remove the sauce from heat and stir in half of the cheddar cheese and all of the cream cheese, until melted. Sprinkle with salt, pepper, cayenne, and nutmeg.
In a large bowl mix the steamed cauliflower and the cheese sauce until the cauliflower is well coated with sauce. Pour the cauliflower mix into a generously greased 9x9 baking dish. Sprinkle the other half of the cheddar cheese over the top. Bake in a preheated oven until the cheese is melted and browned, about 25 minutes. Make sure you have a glass of Myka Estates Sauvignon Blanc to enjoy with this tasty dish.
Sign Up For Our Newsletter
Keep up to date on the latest Myka Estates news! We promise to keep it interesting.