Creamy Garlic, Lemon, Corn, and Shrimp Chowder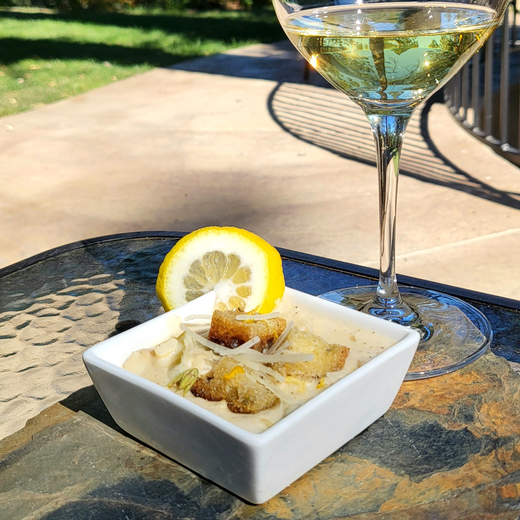 Recipe Date:
August 2, 2022
Measurements:
Imperial (US)
There is nothing better than summertime corn. If you are a fan of chowders, this recipe totally delivers. This is one of my favorites and we think it may soon become yours too. -Chef Lisa Scott
Ingredients
2 tbsps olive oil
4 tbsps (half stick) salted butter
4 cloves garlic, minced
1 medium yellow onion, chopped fine
1/2 cup celery, chopped fine
2 cups frozen corn kernels
1/2 lb shrimp, 26-30 count, tails removed, cut into thirds
1/4 cup flour
1/4 cup Myka Estates Chardonnay (or other crisp dry white wine)
4 cups heavy cream
2 cups chicken broth
2 tbsps fresh lemon juice
1 tsp white pepper
1/4 tsp nutmeg
1/4 tsp ground sage
Pinch of cayenne pepper
Salt and pepper to taste
1 cup croutons, for garnish
2 tbsps parsley, chopped, for garnish
Directions
Heat oven to 400 ˚F. Drizzle ½ of the olive oil on a cookie sheet or baking pan. Spread corn out evenly and drizzle the rest of the oil over the corn. Season with salt and pepper. Mix the corn around the pan so it is coated evenly. Roast for 15-20 minutes then set aside.
Melt butter in a heavy, large soup pot over medium heat. Sauté onions until translucent, add garlic and cook until golden, add celery and corn and cook for 3 minutes. Add shrimp and cook until opaque in color. Sprinkle flour over mixture and stir until everything is evenly coated. Add wine and stir until absorbed. Add cream and cook over gentle heat, stirring constantly, until it becomes smooth and thick. Add chicken broth and the rest of the ingredients except for the garnishes. Cook for approximately 30 minutes on low heat, stirring consistently. Garnish with croutons and fresh parsley to serve, and pair with a glass of Myka Estates Chardonnay.
Sign Up For Our Newsletter
Keep up to date on the latest Myka Estates news! We promise to keep it interesting.