Cucumber Lavender Gazpacho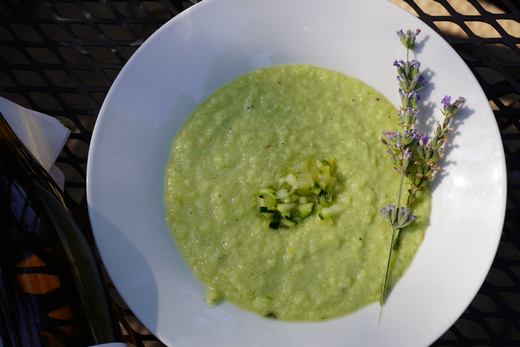 Recipe Date:
June 22, 2023
Measurements:
Imperial (US)
This is the perfect dish for a warm day. It's easy to make ahead of time, it's light, cool, and has a little summer kick. Pair this with dish with a chilled Myka Estates white or rosé.
Ingredients
1 cucumber, peeled, seeded and chopped
3 cloves garlic
1 tsp green onion, chopped
1/2 tsp jalapeño, chopped
2 lavender buds
1/4 tsp coarse salt
1/4 tsp ground black pepper
1 tbsp sour cream
1/4 avocado
1/2 Juice from one lemon
1 tbsp buttery olive oil
Directions
Put all ingredients into a food processor and blend until smooth.
Garnish with a drizzle of olive oil, a sprinkling of lavender flower, lemon zest, and finely chopped cucumber. Serve with a glass of Myka Estates Chardonnay, Chenin Blanc, or Rosé.
Sign Up For Our Newsletter
Keep up to date on the latest Myka Estates news! We promise to keep it interesting.