Emily's Lasagna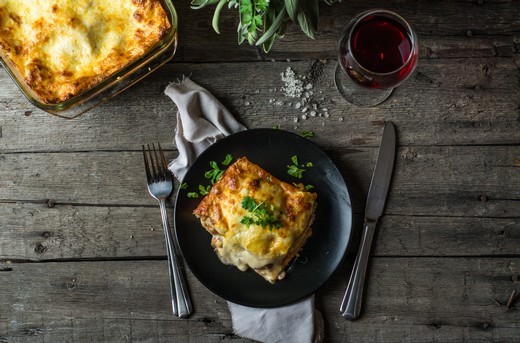 Recipe Date:
December 8, 2022
Measurements:
Imperial (US)
Gather for a family meal with this delicious dish.
Ingredients
1 lb Italian Sausage
1 lb Lean Ground Beef
1 Medium Onion, minced
4 Garlic Cloves, crushed
1 Crushed Tomatoes (28 oz can)
1 Tomato Sauce (15 oz can)
1 Tomato Paste (6 oz can)
1/2 cup Water
2 tbsps Sugar
2 tsps Italian Seasoning
1 tsp Fennel Seeds
1 Lasagna Noodle (16 oz pack)
1 Ricotta Cheese (15 oz)
1 Egg
2 cups Mozzarella Cheese, shredded
1 cup Parmesan Cheese, grated
Fresh Parsley
Fresh Basil
Directions
In a large sauce pan, sauté onions in olive oil until fragrant. Stir in garlic, Italian sausage, and ground beef until browned. Stir in crushed tomato, tomato sauce, tomato paste, and water. Season with sugar, some parsley, basil, dash of salt, pepper, fennel, and Italian seasoning. Simmer and cover for 40 minutes, stirring occasionally.
Meanwhile, bring a large pot of water to a boil. Season with salt. Cook noodles slightly under al dente (they should be firm, but flexible). Drain noodles, and rinse with cold water.
In a bowl, combine ricotta cheese, egg, parsley and basil.
Preheat oven to 375.
In a baking dish, cover the bottom with a small layer of the meat sauce, top with noodles, then spread a small layer of the ricotta mixture on the noodles, then sprinkle mozzarella cheese and Parmesan cheese. Repeat the layers, and top with the remaining cheese. Spray cooking oil on foil, oil side down, and cover dish.
Bake for 25-30 minutes. Remove foil, and bake for an additional 20 minutes.
Let the lasagna rest for 10 minutes before serving. Top with the remaining parsley and basil.
Pair with 2018 Merlot or 2017 Reserve Cabernet Sauvignon
Sign Up For Our Newsletter
Keep up to date on the latest Myka Estates news! We promise to keep it interesting.