French Onion and Apple Flatbread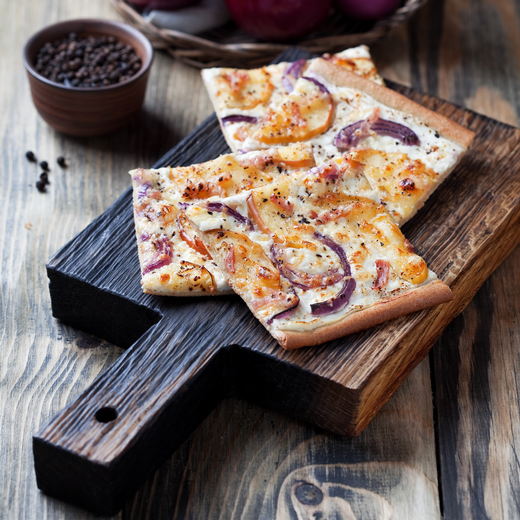 Recipe Date:
September 19, 2022
Measurements:
Imperial (US)
French Onion and Apple Flatbread
Ingredients
3 tbsps Salted Butter
1 Onion (yellow or red), sliced thin
3/4 cup Apple Cider
1 tbsp Fresh Thyme
1 tbsp Fresh Sage, chopped
1 tsp Red Pepper Flakes
4 Slices of Prosciutto
1 Flatbread or Pizza Crust
2 tbsps Extra Virgin Olive Oil
1 1/2 cups Fontina Cheese
1 1/2 cups White Cheddar
1 Honey Crisp Apple, sliced thin
Salt and Pepper
Directions
Preheat oven to 375°
Melt 2 tablespoons butter in a large skillet over medium-high heat. Add the onions and cook until softened. Add half the apple cider, season with salt and pepper and continue cooking a few minutes. Slowly add the remaining cider and cook another 5 minutes or until the onions are golden and caramelized. Add the thyme, sage, and crushed red pepper, cook another minute. Remove from the heat.
In a large skillet set over medium heat, cook the prosciutto until crisp, about 2 minutes per side. Remove from the skillet.
Brush the top of your flatbread with olive oil, then evenly layer the cheeses, onion, apples, and prosciutto.
Place the in the oven until cheese starts to melt, then add 1/2 tablespoon butter and 2 sage leaves, let bake for 1-2 mintues. Serve immediately.
This pairs lovely with our double gold 2020 Pinot Noir Snows Crossing Vineyard.
Sign Up For Our Newsletter
Keep up to date on the latest Myka Estates news! We promise to keep it interesting.