Gorgonzola, Orange and Candied Walnut Cheese Ball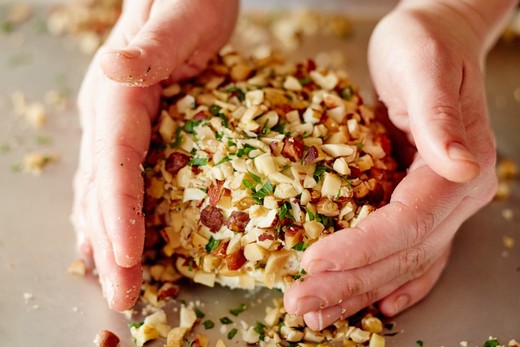 Recipe Date:
August 6, 2021
Measurements:
Imperial (US)
A perfect easy appetizer for when you just feel like drinking Rose and eating some cheese! This recipe
Ingredients
10 ozs Gorgonzola cheese, crumbled
4 ozs cream cheese
1 tbsp butter
3 tbsps brown sugar
1 tbsp heavy cream
1 tsp orange juice
pinch salt
pinch cayenne pepper
4 cups walnuts, chopped in small pieces
1/4 cup orange marmalade
crackers and bread for serving
Directions
Remove cheeses from refrigerator and let them sit at room temperature for 30 minutes prior to making cheese mix.
Preheat your oven to 325 ˚F.
In a small sauté pan melt the butter over medium heat and then add the brown sugar, stirring constantly. Add the orange juice, cream, salt, and cayenne and continue stirring periodically. Cook over low heat until well blended and caramel in color. Add the walnuts, stirring to coat. Cook until all the sauce is gone, stuck to the walnuts. Line a sheet pan with parchment paper. Spread the nuts evenly on the parchment paper and bake for 15-20 minutes. Remove from oven and let cool. Nuts should be crispy not gooey. When cool, chop the nuts a bit finer or put in a food processor on and pulse until desired texture.
While nuts are cooking put cheese in a food processor. Process until cheeses are well blended and smooth. Add in the marmalade and zest and blend until mixed thoroughly. Place cheese on a piece of parchment paper and divide into 2 pieces. With very clean hands (I recommend gloves) roll the cheese mix into balls. Wrap in plastic and refrigerate for 30 minutes to firm up.
Spread nuts on a large dinner plate or a cutting board. Roll the cheese balls over the nuts rotating until the entire ball is coated in nuts. Serve on a charcuterie board or by itself, accompanied by crackers and/or bread. It's the perfect easy appetizer to pair with a bottle of Myka Estates Rosé.
Cook's note - you can make small cheese balls instead of larger ones and serve them individually.
Sign Up For Our Newsletter
Keep up to date on the latest Myka Estates news! We promise to keep it interesting.