Lisa's Baklava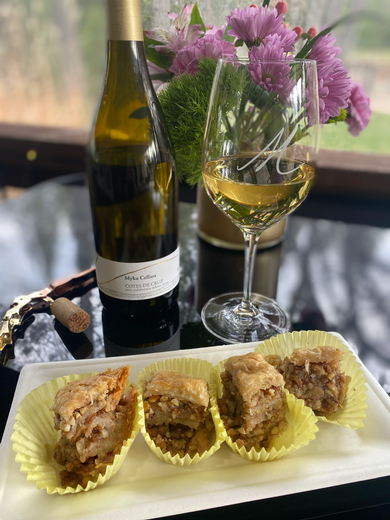 Recipe Date:
July 28, 2022
Measurements:
Imperial (US)
You will fall in love with this crunchy, nutty, flavorful dessert! This pairs perfectly with our Cotes du Cruz Blanc.
Ingredients
1 1/2 cups Sugar
3/4 Water
1/4 Lemon Rind, finely chopped
2 Whole Cloves
1 Cinnamon Stick
1/2 cup Honey
2 tbsps Lemon Juice
1 tbsp Rum, Brandy, or Amaretto
1 lb Walnuts, coarsely chopped
1/2 lb Almonds, coarsely chopped
1/2 lb Pecans, coarsely chopped
2 tsps Cinnamon
2 1/2 cups Butter, melted
2 16oz packages of Phyllo Dough *Please note: It is very important to keep phyllo dough covered with a damp cloth while working with it so it does not dry out.
Directions
Cooking Syrup - *Syrup needs to be made the day before
In a sauce pan combine 1 cup of sugar, water, lemon rind, cloves and cinnamon stick. Bring to a boil. Cook until mixture thickens slightly. Remove from heat and add honey, lemon juice and brandy. When syrup cools cover and let sit. Do not leave syrup in sunlight. Strain before using.
Building the baklava -
Preheat oven to 325°F. Combine all baklava ingredients except phyllo dough and syrup in a large bowl, then divide into four equal parts. With a basting brush, generously coat the bottom of a 13"x9"x2" pan. Place one sheet of phyllo dough on the bottom of the pan and baste it with butter. Repeat nine times. Sprinkle with ¼ of nut mixture.
Put a piece of phyllo dough on top of nuts and baste with butter. Repeat five times. Add ¼ nut mixture. Repeat two more times and top with 10 layers of phyllo, basting with butter between each layer.
Before baking, cut into 2" diamond shaped pieces using a sharp serrated knife. Pour remaining butter over top. Use a cookie sheet to cut overhang if necessary. Bake covered with foil for 40 minutes. Remove foil and cook for 20 more minutes until golden in color. Remove from oven. Pour 2 cups of syrup over the baklava while still hot. Leave in a cool place until ready to serve.
Sign Up For Our Newsletter
Keep up to date on the latest Myka Estates news! We promise to keep it interesting.