Roasted Beet & Fresh Garlic Chevre Flatbread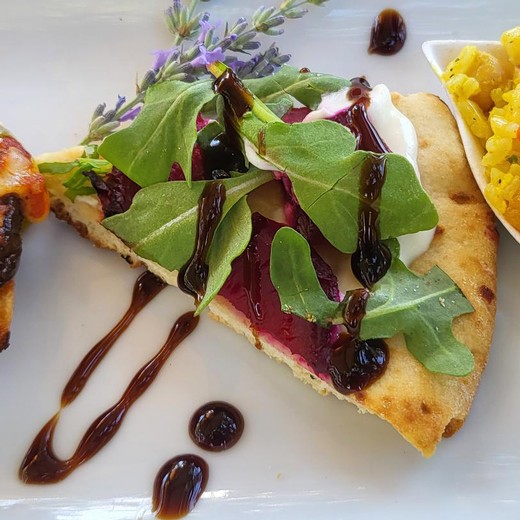 Recipe Date:
August 8, 2023
Measurements:
Imperial (US)
For this simple flatbread, I like to use three different kinds of beets, so it looks as good as it tastes. I use a pre-made Naan bread by Stonefire, but you could make your own.
Ingredients
3 Beets, washed and cut in half
2 Naan flatbreads, or similar flatbreads
2 tbsps Olive oil
1/2 tsp Salt
1/2 tsp Pepper
1/2 cup Fresh chevre
3 Cloves of garlic, minced
2 tbsps Heavy cream
1/2 cup Arugula
Reduced balsamic glaze
Directions
Preheat your oven to 400˚F. Line a baking sheet with parchment paper. Toss halved beets in a bowl with olive oil, salt, and pepper, making sure to coat the entire beet. Place beets on the lined baking pan, cut side down, and roast for 40 minutes. You will know the beets are done when they can be easily pierced with a fork or knife. Remove the beets from the oven and let cool, but keep the oven on for cooking flatbreads. Peel off the skins and slice each beet half into ¼ inch slices. Then cut the slices in half, so you have nice little 1/4 beet slices.
While the beets are cooking, toast the bottom of the Naan bread on a flat top, griddle or frying pan and set aside. Toast long enough so the bread does not fold when holding it.
Mix the chevre, garlic and heavy cream with a hand mixer until smooth.
To build the flat breads, spread a generous coating of chevre mixture on top of the Naan bread. Top with half of the beets, mixing the different colors. Place in 400˚F preheated oven or toaster oven and cook for approximately 7 minutes. Remove, then sprinkle arugula over the top and garnish with a "zip, zip" of reduced balsamic glaze. Cut each flatbread in three or four pieces for ease of eating and serve with Myka Estates Hawk's Roost Pinot Noir.
Sign Up For Our Newsletter
Keep up to date on the latest Myka Estates news! We promise to keep it interesting.