Savory Herb & Gorgonzola Cheesecake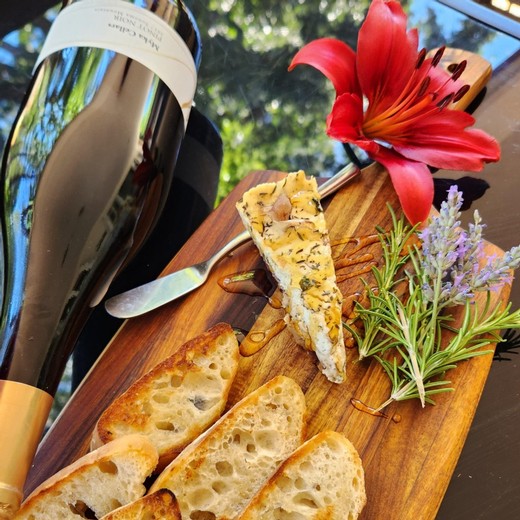 Recipe Date:
October 30, 2023
Measurements:
Imperial (US)
This savory cheesecake is worth the effort! Give yourself time to let the cake slowly cool before serving. This is ideal to make the day ahead.
Ingredients
2 tbsps Canola Oil
4 cups Vidalia onion (thinly sliced, about 2-3 medium onions)
3/4 cup Red Wine
1 tbsp Reduced Balsamic Glaze
2 cups Ritz Cracker Crumbs (or your cracker of choice)
5 tbsps Unsalted Butter (melted, divided)
2 cups Whole milk ricotta cheese (room temperature)
8 ozs Cream cheese (room temperature)
1 cup Gorgonzola cheese (room temperature)
1 tbsp All purpose flour
1 tsp Grated lemon peel
1/4 tsp Kosher Salt
1/4 tsp Ground Black Pepper
1/4 tsp Lemon juice
2 tsps Fresh basil (chopped, divided)
2 tsps Fresh thyme (stems removed, chopped, divided)
1 tsp Fresh rosemary (chopped, divided)
1 Large Egg
Honey
Directions
Heat oil in a large sauté pan over high heat. Add onions; stir to coat well with oil. Cook over medium-high heat 30-40 minutes or until deep golden brown, stirring occasionally. Stir in wine; cook 5 minutes or until thick and syrupy and the onions resemble marmalade. Stir in reduced balsamic. Set aside.
Prepare crust while onions are cooking. Preheat oven to 350°F and adjust oven rack to middle position. Combine cracker crumbs and 4 tablespoons butter. Brush one 9-inch non-stick springform pan with remaining butter. Press crumb mixture firmly onto the bottom of the pan. Place on baking sheet and bake 15 minutes or until edges begin to brown. Cool on wire rack.
To prepare filling, place cheeses, flour, lemon peel, salt, pepper, lemon juice and half of each of the fresh herbs in a mixer bowl. Attach bowl and flat beater attachment to mixer.
Turn to speed 4 (medium-high) and beat until light, fluffy and well blended. Stop and scrape bowl. Turn to Speed 1 and add egg; mix until blended.
Reduce oven temperature to 325°F. Top the cooled crust with a thin layer of onion mixture. Spoon filling on top of onions, smoothing with small offset spatula or knife. Sprinkle black pepper and the remaining fresh herbs on top.
Cover bottom and sides of springform plan with one piece of aluminum foil (foil needs to go most of the way up the sides of the pan. Place springform pan in a larger shallow baking pan. Fill baking pan with enough hot water to come halfway up side of springform pan. Bake one hour and 15 minutes or until top is lightly brown but center is still soft and jiggly. Let cool in water bath on wire rack for 1 hour. When cheesecake is slightly warm, remove from water bath and refrigerate until cooled completely.
Loosen ring from pan and slice cheesecake into thin slices. Drizzle with honey. Serve with assorted fresh bread, crostini, crackers, or fresh vegetables.
Serve with Myka Estates Chardonnay.
Sign Up For Our Newsletter
Keep up to date on the latest Myka Estates news! We promise to keep it interesting.