Truffle Fonduta with Chicken and Sautéed Mushrooms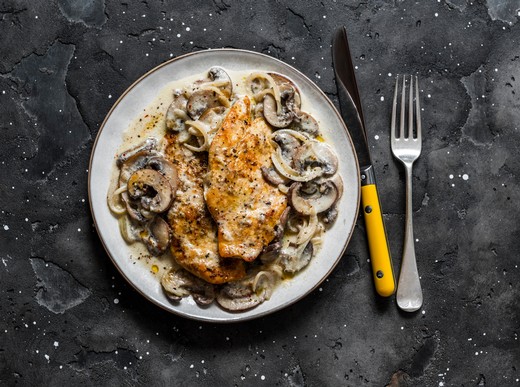 Recipe Date:
January 11, 2023
Measurements:
Imperial (US)
This recipe by Chef Lisa Scott pairs with Myka Estates Barbera.
Ingredients
4 Large Egg Yolks
1 cup Half and Half
3 cups Shredded Fontina Cheese
1 tsp High Quality Truffle Oil
1 Pinch of Cayenne Pepper
1/4 tsp Ground White Pepper
1 1/2 tsps Salt, divided
4 Large Chicken Breasts, butterflied and pounded out to ½ inch thickness
4 tbsps Butter, divided
4 tbsps Olive Oil, divided
1 cup Flour
1 tsp Ground Black Pepper
8 ozs Baby bella or cremini mushrooms, sliced thin
2 tbsps Myka Estates Sherry or other high-quality cream sherry
3 Cloves Garlic, minced
Directions
In the top of a double boiler, thoroughly mix egg yolks and half and half. Place over slightly simmering water. Cook, stirring constantly with a spatula, scrapping the sides of the bowl regularly. Cook until mixture is thickened enough to coat the back of a spoon with a thick velvety layer, this may take 10-15 minutes. Be careful not to overcook the mixture, as this will cause it to curdle and separate. As soon as it has reached the desired thickness, slowly add the cheese in, stirring constantly. When all the cheese has melted remove the double boiler from the heat and stir in the truffle oil, cayenne salt, and white pepper. Set sauce aside.
In a large frying pan heat two tablespoons each of butter and olive oil over medium heat. In a medium sized bowl mix the flour, salt, and pepper. Dredge the prepared chicken breasts in the flour mixture and shake off any excess. Place the chicken in the hot oil and cook for three or four minutes until golden, then flip and cook on the other side. Remove from pan and place on a baking sheet in a warm oven until you are ready to serve.
In the same pan, add the rest of the butter and oil and heat until it is very hot, but not burning. Add the mushroom and cook for three or four minutes until mushrooms are soft and golden, then add the garlic. Cook for 1 minute, then add the Sherry. Your pan is going to be very hot and may cause a flame which will flambé your mushrooms. Cook for a few seconds then remove from the heat.
To serve, place the chicken on either a platter or on individual plates. Top with mushrooms and warm truffle Fonduta sauce. If desired, you can wilt fresh spinach in the pan after removing the mushrooms and serve as a bed under the chicken; this creates a complete meal using only two pans!
Pair with Myka Estates Barbera.
Sign Up For Our Newsletter
Keep up to date on the latest Myka Estates news! We promise to keep it interesting.