Truffle Lyonnaise Potatoes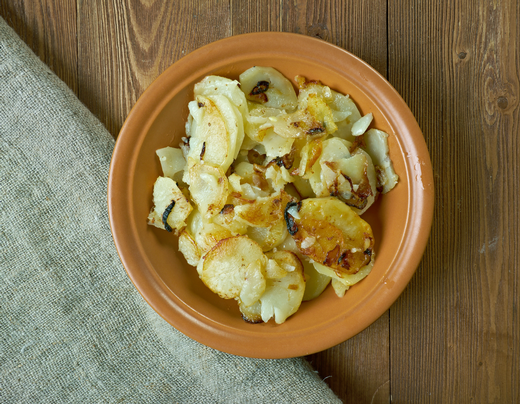 Recipe Date:
February 28, 2023
Measurements:
Imperial (US)
Potatoes are a great staple for every kitchen. They can be prepared in many different ways and are always delicious. This truffle Lyonnaise potato recipe is quick to prepare and delicious. You can make it in a casserole pan or in muffin tins to help with portion sizes. I love it as a side dish with breakfast, lunch, or dinner. – Chef Lisa Scott
Ingredients
1 1/2 tsps salt
1 tsp ground pepper
1 stick butter, melted
1/2 tsp ground white pepper
2 lbs potatoes, I like Russet or Yukon Gold, peeled and sliced 1/4 inch thick
1 tbsp olive oil, divided
1 tbsp truffle oil, divided
4 onions, julienned
2 tbsps garlic, diced
1 tbsp parsley, chopped, for garnish
Directions
Add potato slices to a pot, cover with water, add some salt, and bring it to a boil over high heat. Once boiling, reduce the heat to low-medium and let the potatoes simmer for about 4-5 minutes. Drain the water and dry the potatoes on a kitchen towel.
Heat a skillet over medium heat and add ½ the olive oil and ½ of the truffle oil. When oil is hot, add the onions and cook until caramelized, about 15 minutes, stirring periodically. Add the garlic and cook for 2 more minutes. Remove the caramelized onions and garlic from the skillet.
With a basting brush, coat all sides of a muffin tin or an 8-inch square casserole pan with a generous amount of butter. Toss the potatoes with remaining butter, oils, salt, pepper, and white pepper. Layer the potatoes then the onions repeating all the way to the top of the pan.
Bake in a 400 ˚F oven for 20 minutes, or until golden and crispy on top.
Garnish with parsley to serve. Pair with Myka Estates Gramm Vineyard Pinot Noir.
Sign Up For Our Newsletter
Keep up to date on the latest Myka Estates news! We promise to keep it interesting.