Pappardelle With Seared Scallops and Pesto Cream Sauce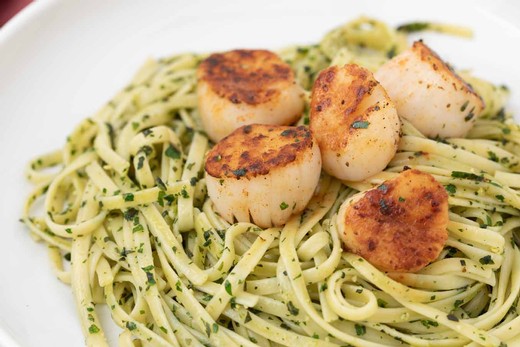 Recipe Date:
January 11, 2023
Measurements:
Imperial (US)
This versatile sauce will soon become one of your favorites; it is great with shrimp, scallops, chicken, artichokes or even as a base for a pizza or flat bread. The use of pesto can be optional if you want to change things up a bit.
Ingredients
16 ozs Package of Pappardelle Pasta
3 lbs Scallops
2 tbsps Olive Oil
6 tbsps Butter, separated
9 Cloves of Garlic, minced
1/4 cup Flour
2 cups Heavy Cream
2 Lemons, zested and juiced
1/2 cup Grated Parmesan
1/4 cup Pesto
1/4 tsp White Pepper
1 Pinch of Cayenne Pepper
1 Pinch of Salt and Pepper to taste
1 Basil Chiffonade for garnish
Directions
Prepare pasta as directed on package.
To make the sauce, melt 4 tablespoons of butter in a heavy saucepan. Add the garlic and cook until golden. Whisk in the flour in and cook until mixture is golden. Slowly add the heavy cream, whisking to incorporate the cream into the flour mixture. When all the cream has been added, let mixture cook for 5-7 minutes over low heat so the sauce thickens. Add the lemon juice, one teaspoon lemon zest, parmesan, pesto, white pepper, salt, and pepper to taste. Keep warm over low heat, stirring occasionally so not to burn or stick.
Lay scallops on a paper towel–lined plate and allow to come to room temperature, about 15 minutes. Season with 1/2 teaspoon salt and let stand 5 more minutes. This will help develop the best flavor.
Heat a large frying pan over medium-high heat until hot. Swirl in oil, then arrange scallops in a single layer in pan, with ample space around each. Cook without moving scallops until golden and crusty underneath, about 2 minutes. Then flip each scallop and cook for about a minute more. Remove from heat and let scallops sit in pan one minute before transferring to a plate. This technique allows you to get a great sear on both sides of each scallop.
Right before serving toss the pasta with the pesto cream sauce. Serve in a warm bowl or serving platter. Place the scallops on top and garnish with basil. Pair with Myka Estates Central Coast Chardonnay.
Sign Up For Our Newsletter
Keep up to date on the latest Myka Estates news! We promise to keep it interesting.