Toasted Ravioli With Creamy Tomato Sauce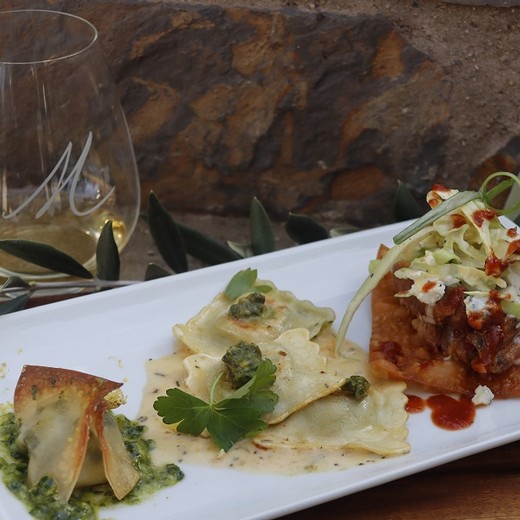 Recipe Date:
January 20, 2022
Measurements:
Imperial (US)
I have used this sauce with grilled vegetable lasagna, chicken cannelloni, and even thinned it a bit and served it as a soup. For a quick meal, serve the toasted cheese ravioli with creamy tomato sauce, a salad, warm bread, and a bottle of Myka Estates Pinot Noir. – Lisa Scott
Ingredients
1 14 ounce cheese ravioli
1 tbsp salt
3 tbsps olive oil, divided
1/2 cup butter, divided, plus one tablespoon for toasting raviolis
2 tbsps shallots, minced
2 cups chicken broth, divided
5 ripe tomatoes
1/4 cup dry basil
1/4 tsp red pepper flakes
1 1/2 tbsps flour
1 cup heavy cream
Directions
Fill a medium stock pot with water, salt and 1 tablespoon oil. Bring to a boil and add the ravioli. Cook for three minutes and carefully remove the ravioli from the pot. Toss the ravioli with the remaining oil. Place the ravioli on wax paper so they do not stick together. Set aside.
In a medium stock pot, melt half of the butter and sauté the shallots until translucent. Add half of the chicken broth, tomatoes, basil, and pepper flakes. Let simmer.
In a separate pan, melt the other half of the butter and mix in the flour to make a roux, stirring constantly for a few minutes until it turns a lightly toasted color. Add the remaining chicken stock and the heavy cream and let cook until it thickens. Mix this with the broth and tomato mixture and cook for 10 minutes or longer in a low simmer.
On a griddle, melt one tablespoon of butter. Place the ravioli in a single layer on the hot buttered griddle and cook for about 2 minutes on each side. They will puff up and turn a light golden color. Remove from griddle and place on a plate. Ladle sauce over the top and garnish with freshly grated parmesan cheese. Serve with Myka Estates Pinot Noir.
Sign Up For Our Newsletter
Keep up to date on the latest Myka Estates news! We promise to keep it interesting.