October 22, 2021 | Winemaking | Team Member
End of Harvest
The grapes are all in, the juice has fermented to dryness, and now it is time to start the next phase of making wine! There is never a dull moment in any stage of the winemaking process. Mica said, "it was an early harvest, we dodged the smoke from the Caldor fire and all juice has gone through fermentation successfully."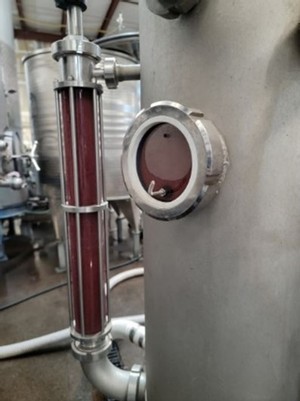 So, what is the next winemaking task for Team Myka? It's time to press! Mica and his team have been loading up the presses, using an air press to gently squeeze the wine from the mixture that still contains grape skins and seeds, called pomace. This action is to capture all the nuances in the pomace, with controlled pressure so as not to break the seeds and release unwanted tannins.
To the right is a sneak peak of the newly pressed wine before it gets pumped to barrel or stainless-steel tank, depending on the varietal. After the wine goes to barrel or tank, every positive attribute has been extracted from the pomace, so it is discarded. The only additional way to extract from pomace at that point is through distillation to create spirits such as grappa. Pomace can be composted and added back into the vineyard soil as an amendment.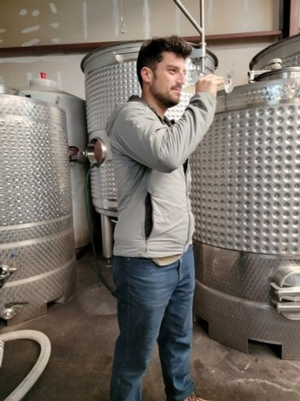 Mica recently commented on his approach to one of his favorite varietals we harvested this year, Chenin Blanc, "I gave the wine 24 hours of skin contact, then sent it to the press. This allowed for amazing aromatics- spot on Meyer lemon." Every young wine is different and some benefit from more skin contact to extract as much of the subtle nuances, color, or textures as possible. We are very excited for this wine! We can picture ourselves next year enjoying a bottle of Chenin Blanc at a picnic with a platter of grilled chicken topped with grilled Meyer lemons, fresh pasta salad, and a beautiful view!
While Mica is pressing the wine, our other team members are already busy again bottling and labeling previous vintages, cleaning up the winery, sanitizing, and putting away all the harvest equipment until next year. A busy year of harvest, bottling, and labeling are all normal for our amazing winemaking team!
Comments
Commenting has been turned off.
Sign Up For Our Newsletter
Keep up to date on the latest Myka Estates news! We promise to keep it interesting.