March 18, 2022 | Winemaking | Mica Raas
Influenced by the Rhône: Côtes du Cruz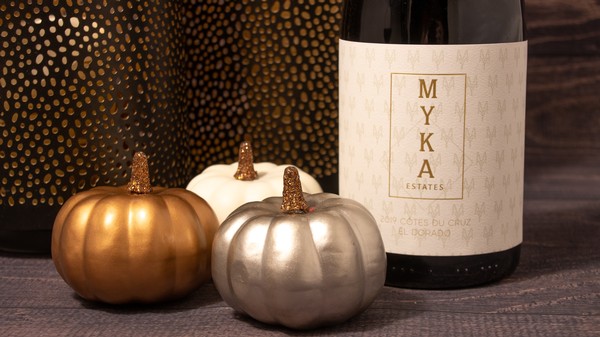 It's no secret that many of the famous wine grape varietals from the Rhône Valley in the South of France thrive in a few regions here in California, and parts of El Dorado are included. In fact, the local Sierra Vista Winery is one of the original members of the Rhone Rangers, a group of wineries that banded together starting in the 1980's to promote Rhône style wines which, at the time, were not receiving the recognition they deserved.
I've long been a fan of Rhône varietals and am happy to continue working with them here in the foothills, lending them my own signature style.
On the most basic level the Rhône's biggest contributions to the world's fine wine scene are the grape varietal Syrah and the blend known as GSM, comprised of Grenache, Syrah and Mourvèdre. In addition, white blends of the three grapes Viognier, Marsanne, and Roussanne are the white equivalent of GSM, a famous trio of grapes that blend well. I love the incredible balance that can be achieved by blending, so my Côtes du Cruz Blanc and Rouge wines are inspired by those blends.
For our Côtes du Cruz Rouge I primarily blend Grenache, Syrah, and Mourvèdre, sometimes with a touch of Petite Sirah. The Grenache I tend to pick really ripe with big fruit character. The Syrah is similar, picked ripe in an American style, more meaty and less floral you could say. The Mourvèdre, partly due to our primary vineyard site for that grape, I pick in more of a French style, a bit leaner and less ripe, with red fruit notes.
Blended together those produce a well-balanced California red that pairs well with food, but is also a bit of a cocktail wine, standing well on it's own and with a hint of perceived sweetness to give it a rounder palate. Our 2019 Côtes du Cruz Rouge boasts bright fruit notes including cherry and cranberry, with back notes of cocoa, a medium body, and velvety smooth tannins.
The Côtes du Cruz Blanc is what I think of as an Hermitage white blend, at least that's my inspiration. However, I produce it in more of a California style with more oak, call it the "Chardonnay treatment", and a rounder, softer, complex profile that I think is very food friendly for the U.S. palate. Our 2018 Côtes du Cruz Blanc is golden yellow color with aromas of sweet egg custard, vanilla, honeysuckle, and dried stone fruits with a hint of nutmeg. It is unctuous and rich with flavors of tangerine and fruit cocktail, including apricot.
More About The Rhône Valley
The wines of the Rhône Valley, like many wines from France, can be inscrutable for wine drinkers in the United States. That's largely due the fact that most French wine labels don't list the specific varietals in the wine, as we are used to here. They are more focused on regional styles and name their wines accordingly. I always take into consideration that vines have been tended in France for around 2,500 years, much longer than here in the U.S., so that's a lot of time for refinement and specialization by region.
The Rhône Valley is a North to South Valley with two distinct parts planted along the east and western edges of the Rhône River.
The Northern Rhône is narrower, with the vineyards hugging the river tightly. There they experience a more continental climate and focus on Syrah alone as a red wine, with 20% white wine allowed to be blended in, and a few white varietals including Viognier, Marsanne and Roussanne. Côte Rôtie, the Northernmost region, is one of the most famous Syrah regions in the world, known for bold, fine-grained tannins and flavors of black raspberry, black currant, violet, chocolate, olive, white pepper, and smoked bacon. Just south of there, Condrieu is famous for opulent Viognier. Headed south there are a number of other famous regions, including Hermitage and Cornas, which are well known for their bolder, more tannic styles of Syrah.
The Southern Rhône, in contrast, is a more regionally expansive region and is famous for blends, with a number of other red grapes playing important roles in blends along with Syrah. Grenache and Mourvèdre are the best known and are the other two grapes of the "GSM" blends now found produced around the world. Carignane, Cinsault and Counoise are others, but keep in mind the most famous region there, Châteauneuf-du-Pape, allows a total of 13 different grapes in their blends! Gigondas, Vacqueyras, and Tavel are just a few of the other famous regions of the Southern Rhône.
Despite the complexity of the region, I recommend taking a few minutes to explore the shelves next time you're in a wine shop and picking up a bottle of any Rhône wine. Taste it against our Côtes du Cruz and tell me what you think!

Comments
Commenting has been turned off.
Sign Up For Our Newsletter
Keep up to date on the latest Myka Estates news! We promise to keep it interesting.