September 30, 2021 | Winemaking | Team Member
Harvest 2021
Myka Estates Harvest Blog 2021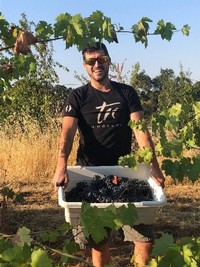 We are thankful for our seasoned Winemaker, Mica, and his crew for their hard work during this year's harvest. Mica says, "Harvest was very early this year, and with modifications made over the last 5 years, it is the best quality and largest crop we have ever had." Harvest started for us on August 24th with Chardonnay grapes. "Varietal quality is up on all the estate vineyards," Mica said. He waits to pick the grapes until they are perfectly mature and truly express the vineyard characteristics or terroir.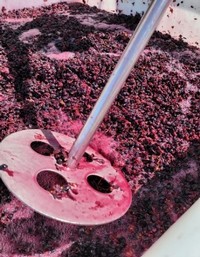 Mica likes to keep some fruit on its own for vineyard designate bottlings or to blend in smaller batches. The smaller batches are put into bins and cellar staff actively have to "mix" the fruit daily by doing "punch downs". They use a metal tool to actively punch through the thick top layer known as the "cap". This is repeated at least once per day until everything is thoroughly mixed.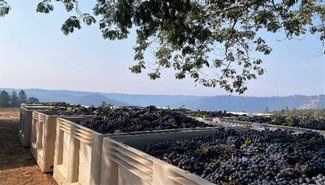 In one of our vineyards, we have a secret weapon, our Vineyard Manager, Fausto. He and his family been caretakers on the Jodar Estate property for 20 years. We benefit greatly from his incredible knowledge of the land. Between Fausto's knowledge of the vineyard, and Mica's knowledge of grape chemistry and vine nutritional needs, we're very excited about the quality of wines we'll be producing this year from this vineyard.
One question on everyone's mind this year is, "what is the effect of the Caldor Fire smoke on the grapes?" Mica said, "the smoke taint that we have seen so far has been isolated and very pocketed. There has been no smoke taint from our estate vineyards. Some of our neighbors have tested positive, but we have just gotten lucky." In the case that we do have any issues, Mica is a smart guy and knows exactly what to do! He said, "smoke taint can be removed with little effect to the wine if you get to it early. It is a slow process, but it is very effective and must be done immediately after fermentation."
We are closing in on harvest 2021 with 3/4 of our grapes in so far! Stay tuned for next month's blog to hear how your favorite wines are doing and what is next in the winemaking process.
Cheers,
The Myka Estates Harvest Team
Comments
Commenting has been turned off.
Sign Up For Our Newsletter
Keep up to date on the latest Myka Estates news! We promise to keep it interesting.