August 9, 2020 | Winemaking | Team Member
Guide to Sauvignon Blanc Wine
What is Sauvignon Blanc wine?
Sauvignon Blanc is a green-skinned grape variety that originates from the Bordeaux region of France. Do not be afraid to pop that cork or twist off that cap as it is a varietal that does not really benefit from aging.
The name Sauvignon Blanc means "Wild White" and the grape has origins in the South of France. Sauvignon Blanc is one of the most widely planted wine grapes in the world and because of this it has a wide range of styles and flavors.
As we all like a reason to celebrate, the first Friday in May is International Sauvignon Blanc Day.
How does Sauvignon Blanc taste?
Sauvignon Blanc tastes very different from other white wines, like Chardonnay, because of its green and herbaceous flavors. It has primary fruit flavors of lime, green apple, passion fruit and white peach. Farming can have a huge impact on the flavor like depending on how ripe the grapes are when the wine is made, the flavor could range from a really zesty lime to aromatic peach. What makes it unique from other white wines are its other herbaceous flavors like bell pepper, jalapeño, and even grass. These flavors come from aromatic compounds called pyrazines and are the key to Sauvignon Blanc's taste.
Strange as it may seem, the bright green Sauvignon Blanc has a lot in common with dark red skinned Cabernet Sauvignon, and not just in the name and region of origin. The bell-pepper and asparagus flavors detectable in both wines come from similar chemical flavor compounds often found in both varieties.
How can you pair Sauvignon Blanc with food?
As with sustainable farming practices, the key here is to go green! Sauvignon Blanc pairs incredibly well with green herbs like parsley, rosemary, basil, cilantro or mint. Salads, grilled fish prepared with lemon and herbs, and sour cheeses like Goat cheese, greek yogurt, and Crème fraîche are perfection. It is also known as one of the few wines that can pair well with sushi.
We love this wine when enjoying spicy foods on a warm summer evening - don't be shy, add an ice cube, we don't judge here..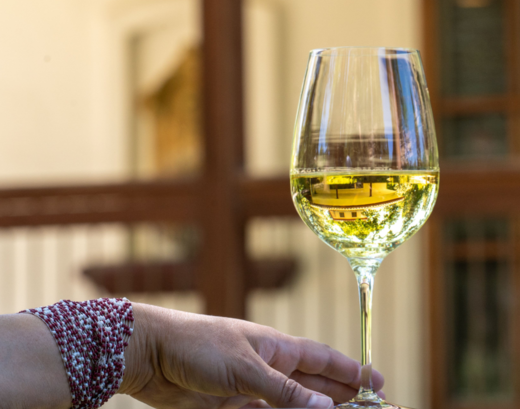 Comments
Commenting has been turned off.
Sign Up For Our Newsletter
Keep up to date on the latest Myka Estates news! We promise to keep it interesting.