October 20, 2020 | Marketing | Team Member
10 Ways to Celebrate Halloween 2020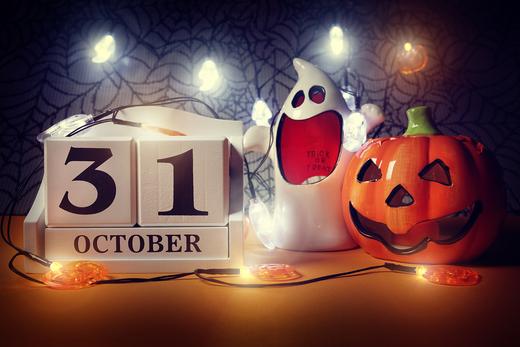 This will be unlike any other Halloween we have ever experienced. The Hunter's moon will be the perfect backdrop to a seriously spooky Halloween night, but don't be too scared, this is a chance to enjoy all the simple pleasures that the season and time with our social bubble have to offer.
Festive Parties and traditions have been a part of Americana since the late 1800's but most of us can recall when in the 1970's there was a distinct transition from homemade morsels to packaged candies, because the world had changed and safety was our primary focus. Safety once again has taken center stage but the twist this year is that many of us only have the option of surrounding ourselves with trusted friends and family.
Whether you wind back the clock to a time when homemade treats and bobbing for apples was a thing or you go high tech to include as many people as possible - this might just turn out to be the best Halloween ever. In honor of the transition from canvassing the neighborhood to more intimate family settings, let's take advantage of this unique opportunity and make the most of our time with as much scary as we can tolerate and all the pumpkin spice our taste buds are craving.
From simple to elaborate, we have 10 surprise ideas for you and your social bubble to enjoy. You are encouraged to check out CDC guidelines, for your neck of the woods, before finalizing your plans.
Progressive Trick or Treating
Get dressed up, pile the kids in the car and then knock on just those doors whose owners you know. You still get all the fun of traditional trick or treating and even get that first Halloween photo opp. This also allows you all to stay a safe distance apart or exchange homemade treats depending on your comfort level.
Reverse Trick or Treating

Start the gift giving early. Make some homemade treats or simply gather some store bought candy in themed goodie bags and deliver them to neighbors and family alike. Leave everything on the porch with a note, like ding-dong-ditch but without the guilt, or stay to wish them happy Halloween from 6' away.
Movie Watch-Party
Gather all your friends around a streaming service this year. Now many apps have launched group streaming capability so that you can all watch the same movie at once and no one has to leave their respective home. Check your app services for capabilities. Need more interaction? Get your friends on a group call. All phones can be set on speaker so you don't miss any commentary - just as if you were all together.
Haunted Room
A Haunted soundtrack like The Disneyland haunted mansion and a colored light bulb can help you or the kids create a haunted room in your home. Just remember, pretend to be scared when they jump out from behind the curtains.

Host a Virtual Costume Party
Do all the kids still want their friends to see what cool costume they got this year? Consider a virtual costume party complete with prizes. Each household could ensure they have enough prizes to accommodate the children participating within their own household. As each child wins a prize, surprise! How did that get there - it's magic! This could work for your group of girlfriends too but the best prize is that you all get to catch up over your favorite bottle of wine, cocktail or wine cocktail.
HUNTER'S MOON WINE COCKTAIL
Morning Hike, Walk or Bike ride

You don't have to wait until evening to start the festivities. This year Halloween falls on a Saturday, so you have the entire day! Why not start relatively early with a morning trek into nature to enjoy. Soak in the great outdoors and cooler temperatures. The kids could collect leaves for a later craft.
Social Distance Costume Parade
Many cities will be organizing social distancing opportunities that will allow the entire family to show off their costumes and get out of the house while still maintaining a safe distance.

Scary Movie

Get the yumminess all ready to go and grab your spot on the couch. Whether it is caramel corn or homemade chili dogs, turn off all the lights for the full effect and enjoy a scary or not so scary movie together.
MOVIE IDEAS
CARAMEL CORN RECIPE
Drive-thru Haunting
Try a Google search for drive-thru haunted attractions in your area. Make some homemade apple cider for the drive and get ready to turn up the ghost factor as you drive through a haunted house attraction. Seriously creepy.
DIY Skit
For the more adventurous family, what about a way to commemorate the day and share it via your social media page? This way everyone can dress up and you can have as many costume changes as needed for the performance.. From script writing to set and costume design, this challenge should have a role for everyone in your family.
We wish you all a safe Halloween!
Comments
Commenting has been turned off.
Sign Up For Our Newsletter
Keep up to date on the latest Myka Estates news! We promise to keep it interesting.