September 29, 2020 | Marketing | John Smith
Good Day Sacramento Visits Myka Cellars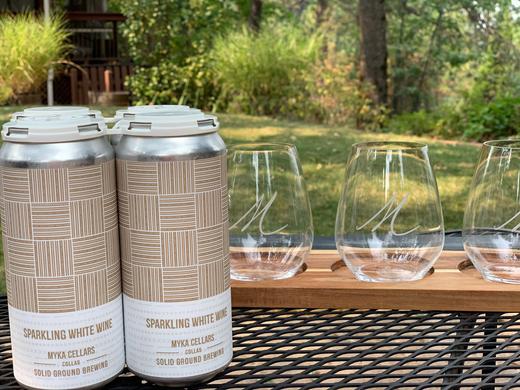 Lori Wallace of Good Day Sacramento stopped by our new Tasting Room & Kitchen to talk wine with winemaker Mica Raas and try our farm to table food and wine pairings that everyone has been talking about.
Watch the segment here:
What a pleasure it was to have Lori Wallace of Good Day Sacramento come visit us. With a playful nod to her co-worker, Cody Stark, who by all accounts is a little directionally challenged. Lori Wallace of Good Day Sacramento highlights the ease with which she found Myka Cellars in the Apple Hill region of Placerville.
Recently opened to the public, Myka Cellars Tasting Room and Kitchen, off the 50 hwy and Carson Road is now open to the public and families are encouraged to visit.
Winemaker, Mica Raas explains that he wants the entire family, furr babies included, to relax and enjoy award winning wines with beautifully paired shareable food items all nestled in an unpretentious tree-lined setting.
"We are trying to shift the paradigm," Mica explains, "This is supposed to be fun and entertaining. Come enjoy yourself."
Although the Myka Cellars Tasting Room and Kitchen is new to this location, the winemaker is very familiar with the area and has been making wine in the foothills for some time. With the intention of focusing on Mountain Pinot Noir and Mountain Cabernet Sauvignon, the Myka brand now has over 10 different varietals to choose from, including a new sparkling Chardonnay. There is something for every palate.
"We really are the hidden gem for the wine region up here." - Mica Raas
Chef Lisa Scott has designed a menu as diverse as the wines being offered. Vegans, Vegetarians, and Carnivores - oh my! She has thought of everyone including a Children's menu. Chef Lisa loves the farm to fork concept and regularly visits the local farmer's markets for the best seasonal produce. A few items that currently rotate through her seasonal inspired menus are artichoke bases filled with gorgonzola cream sauce, heirloom tomato caprese stack, and baked brie stuffed with pesto. Every item has a suggested wine pairing or you can go rogue and speak with your wine ambassador for more ideas.
"It's a great place to begin or end the day in Apple Hill" - Lori Wallace
Full Transcript:
LW) Hey guys, Welcome back. Okay I have to clarify, Cord, I know that That sounded kinda mean what I said about Cody, but we all know that he's not great with directions and I get lost every time I come to Apple Hill. I wasn't lying but I get lost too up at Apple Hill and this is just so easy to find.
Myka cellars, brand new right off the 50 off of Carson Road and would you look at the pay off when you find the place. Wine, great food. I have Mica Raas here. You've only been open a couple weeks so you guys are just getting started.
MR) Yah, we've only been open for two weeks. The first week was only friends and family so this is the first week of our being open to the public. We are actually just getting our sign in a couple days so we are actually newer then our sign. But we've been around the foothills for a little while. I think we are actually one of the most awarded wineries in the foothills. We came up here to focus on Mountain Pinot and Mountain Cabernet and we've found that there is a whole lot of really interesting varieties that we can make here. We do a sparkling Chardonnay in the cans, we do a bunch of Italian grapes but really our food and wine pairings are excellent. Here we have a non pretentious family environment. So we can have dogs here, as long as they are well-behaved. Your children running around, we have a whole kids menu. We are trying to shift that paradigm a little in the wine industry and say hey, this is a family thing. This is supposed to be fun and entertaining. Come enjoy yourself.
LW) You have this beautiful patio, you have plenty of room out here and you are also opening up inside that beautiful tasting room too.
MR) Yah, we have inside and outdoor seating. Really Apple hill is about 10 degrees cooler than Sacramento, so you can be outside almost all the time. It makes a really quaint environment, it's peaceful here. It's a little more family focused - we are trying to move in that direction.
LW) Yes, a great place to begin or end the day in Apple Hill. Now let's talk about the wine really quickly. I know you do a bit of everything but you were saying the Pinot's out here are really big.
MR) They are, the Pinot's are our focus out here but what we've learned is that people are more familiar with some of the other regions so we have a few wines from the other regions as well as the wines we make from here. So you can see, oh look, Sonoma Mountain Pinot is really good but the stuff from the foothills is better than that. You know. We really are the hidden gem for the wine region up here.
LW) I will be willing to taste test a little bit later. Lisa, and the food too looks fabulous.
LISA) Thank you. The food, I do a lot of vegetarian options, I have vegan options, we have a charcuterie board that has tons of meat and everything on it. So these are some of my dishes. This is baked brie stuffed with pesto, we have an heirloom tomato caprese stack, we are trying to do as much farm to fork as we can. I go to the farmer's market a couple times a week to get good produce. We have a crispy rosemary hummus plate, which is vegan, so that is a nice option. It's very tasty and goes beautifully with the wines. So on our menu each item will be paired with a wine, so you don't even have to guess what you need to drink with it. Then the back item is one of most popular. It's artichoke bottoms that are filled with a gorgonzola cream sauce. People are just loving them and they are delicious. I actually built it on top of a steak at home and it was so good and goes great with our petite syrah.
LW) Everything looks so good. If you are wondering what I would choose, I would go with the stack and some of these. I am not going to tell you how many but I am just going to say some of those.
Alright guys, I will send it back to you. Again, right off the 50, Carson Road. If you are coming up to Apple Hill, pay them a visit. Brand new and have this gorgeous patio and by the time you come visit I am sure inside will be open to enjoy as well.
STUDIO) It's so easy that even Cody can find it.
LW) that's what the sign should say, that's what the sign should say!
STUDIO) It's true. Thank you Lori.
There is an Outdoor full service patio and indoor tasting options available. The Apple Hill region is approximately 10 degrees cooler then Sacramento - so it makes for a nice little getaway on it's own or as an addition to your Apple Hill plans.
Comments
Commenting has been turned off.
Sign Up For Our Newsletter
Keep up to date on the latest Myka Estates news! We promise to keep it interesting.